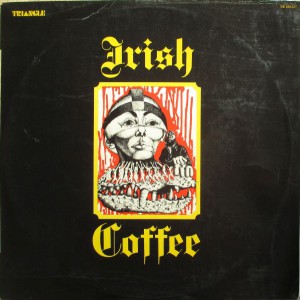 Irish Coffee, one of the best Heavy-Progressive/Hardrock albums ever is available again. For those who still don't have a clue: Irish Coffee is a Belgium-band from Aalst west of Brussels. From 1970 to 1974 they recorded one legendary album and four singles of the same quality. But since they were from Belgium no one outside that small country ever listened and it took 'til the late 80's before it dawned more than a few insiders what kind of a killer-album these guys had produced back in 1971.
Many albums contain 3-4 great tracks while the rest ain't nothing fancy. On Irish Coffee nearly every track grabs you at the throat: I Can't Take It is a perfect starter (click here for the goofy original video-clip: Irish Coffee – I Can't Take It ) and a first taste of the vocal-qualities of singer William Souffreau. He sounds like a perfect mix of Bernd Noske (Birth Control) and Klaus Meine of Scorpions fame at his best, which gives you a clue that Irish Coffee sounds a bit like those classic Kraut-Hardrockers from Germany. It becomes even better on The Beginning Or The End. The final chorus still raises my hair even 25 years after I first heard it! When Winter Comes starts much softer but becomes a tour de force of guitarist Jean van der Schueren in the end. He's one of the few guitar-players besides Miguel Sergides (Arcadium), John Cipollina (Quicksilver Messenger Service) or Mark Knopfler (yes, the Dire Straits prick!) who can handle a plectrum so fast you think he's playin' fingerpicking. That leads to extraordinary runs that are geared more to the melody than to usual improvisation-techniques. Singer and guitarist reach their climax on the killer-track of the album A Day Like Today which deals with the horrors of nuclear war. But all band members are first class musicians because Souffreau and van der Schueren couldn't lift off without a solid rhythm-base. To my ears still one of THE best Hardrock-albums of all time!
Since the album was impossible to find for years I first experienced
Irish Coffee
by their singles. They were recommended to me by a friendly dealer with: "sounds like
Writing On The Wall
" which ain't the worst comparision. It fits in a way though
Irish Coffee
has the better singer and guitar-player! The singles are perfect additions since they're all non-LP besides the B-side of
Masterpiece
, which was released even before the album in many countries of the world, even in Mexico and Brazil! On the last single
Witchy Lady
has
Luc de Clus
on guitar who's not exactly as brilliant as
van der Schueren
but comes pretty close especially on the B-side
I'm Hers
. In 1974 the band called it quits after organ-player
Paul Lambert
was killed in a car-crash.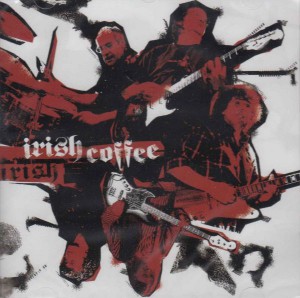 William Souffreau went solo, Jean van der Schueren became a music-teacher while the others quit music-business at all until Souffreau reformed Irish Coffee in 2004 with Luc De Clus and original drummer Hugo Verhoye. The non-titled CD of the same year has 9 new tracks though some fragments reach back to the original band. That's why tracks like Brand New Day, Coloured Land, Your Love, Apocalypse or Dark Cloud are pretty much in the same mood as the original album. Just compare I'm Lost which closes both albums.
Unfortunately the album was only released on CD 'cause although they played a live-show at the infamous German TV-show Rockpalast which was released on album and DVD, Irish Coffee MkII never got enough gigs to make a living.
Since then you could see them from time to time playing close to their home-turf in
Aalst
. On one of these gigs even original guitar-player
Jean van der Schueren
joined again. Click here for a
live-video
: 
Irish Coffee live in Aalst 2013
And every once in a while there're also some new recordings by the now third line-up of Irish Coffee: the 10" Revisited sounds more straight than earlier recordings basically due to the fact that Irish Coffee is now reduced to a trio and William Souffreau took over on lead-guitar instead of finding another filigree-technician like van der Schueren or de Clus. It's still very good though not THAT good as it was. Their latest album When The Owl Cries (it's ordered but hasn't arrived yet) tends to the same direction. It also has a re-recording of I'm Alive, an old single-B-side.
It's been quite a while that I found an original Irish Coffee for a reasonable price and even rarer in good condition. But fortunately the Spanish label Guerssen has officially reissued the album which I could thoroughly recommend to all of you who don't know it yet or own it already. A real masterpiece!!!
for the music of IRISH COFFEE click here:  Irish Coffee