LAST UPDATE:    January 7, 2022
Dear Psych-Heads!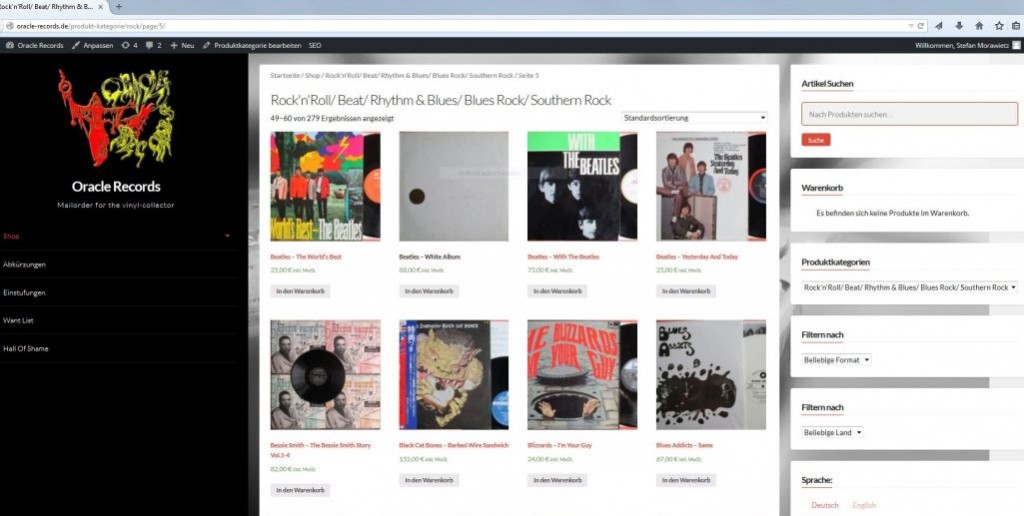 It's finally done!! The new design of this website is ready!! Though it took way more time than calculated – as usual with such projects – but I hope it makes things easier for you, the customer of this site. The main change is that Oracle Records is now a regular webshop, not just an ordinary website like before. It means that you could order right from the shop and pay for your ordered items right away by Paypal or as usual by bank-transfer. This goes for all items in this shop but the few auction-items that I sell only to the highest bidder. You could directly choose your prefered way of mailing as well as your method of payment. Some sections have already photos and the others will follow by and by. Since I'm not using standard-pictures it simply takes some time to make, edit and publish all these photos. You're gonna find some hints to the different handling of the new shop in an extra-article. Of course I'm interested in your opinion on the changes so far. You could send praise or bashing via the reactivated commt-function. I'd love to read your comments since the site should be up to your needs – as far as possible of course. But now have fun browsing through the various sections of the shop. I hope you'd find what you need and I'd hear from you soon! See ya
Stefan
Oracle Records is a mailorder-only company for collectors of Psychedelic music. We are specialising in Psychedelic- & Garage Rock from all over the world from the 1950s up 'til today. Besides that we have also fine selections of rare Westcoast, Oriental Psychedelic/Middle Eastern Music & Exotica, Progressive Rock, 70's Hardrock, German Rock, Folk, Rock'n'Roll, Beat, Rhythm & Blues, Blues Rock, Southern Rock, 60's Soul, Funk & Reggae, Heavy Metal, Doom & Stoner Rock and some books, fanzines & posters. We're concentrating on all formats of original vinyl pressings or high-quality vinyl-reissues, but we also have a small selection of CDs. You can browse through our complete lists or check for any artist or album of your choice.
Even though orders are now going directly through the shop you can still contact me any time by e-mail or phone (still the same numbers and adresses) if you have additional questions or wants. Please feel free to get in touch whatever way you want. Wantlists are also welcome, especially if you're after some very specific stuff we usually don't have in stock but might find for you. Please keep in mind that all payments have to be made in advance. We don't send anything on invoice only. Hopefully you'd find something you're looking for a long time already and we'd be happy to fill the blank spots in your collection!