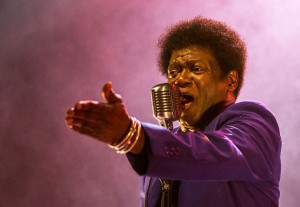 Charles Bradley, one of the nicest late bloomers in Soul-music graces us again with some concerts. While she was still alive you could read columns of eulogies in the music-press on Amy Winehouse, an artist that was badly overrated in my book. 'Cause you wouldn't read anything on survivors like Charles Bradley in the same papers. Of course Amy had a huge talent but unfortunately she never honoured the promise. She preferred to drink herself to death instead in a totally self-destructive manner and basically wasted her talent. Had Charles Bradley ever been so tearful in his life he'd have had more than one reason to say goodbye to this world. For his life-story I recommend the great documentary Soul Of America!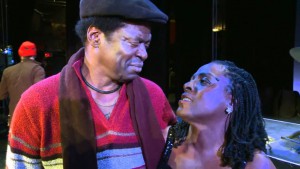 But Charles Bradley is a fighter and so he stood all adversities in his life. He performed as a James Brown imitator when the original was still on tour and wasn't misleaded even when the public reception for such cameo waned. Finally in 2011 at the tender age of 63 he ended up in front of the microphones of the fledgling US-label Daptone and these guys finally were the first to recognize his talent and were able to ban it on record accordingly. His first two albums No Time For Dreaming and Victim Of Love are some of the best Deep Soul albums in recent years.
No peering on hit lists, no sucking up to an audience that's only looking for shallow entertainment. Charles Bradley is the real McCoy 'cause he knows what deprivation can do to your body and your soul. When you see Charles on stage enjoying the homage of his audience there stands a man who knows exactly what it feels like when no one's buyin' a crumb from you for decades. Of course Charles Bradley is also a professional showman by life-long training but the gratitude he shows for his audience in every concert is real. And he always justifies this adoration with a stunning performance. His all-white backing band the Extraordinairies also live up to their name by playing some of the tightest riffs since the glory days of Stax.
For a little VIDEO-taster just click here:  Charles Bradley
Just in time for the tour Charles Bradley finished his 3rd album Changes that will be released in early April.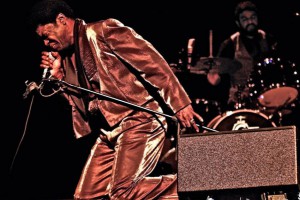 The TOUR DATES 2016
Wed April 30 London/UK (O2 Forum Kentish Town)
Fri April 1 Paris/F (L'Olympia Bruno Coquatrix)
Sat April 2 Reims/F (La Cartonnerie)
Sun April 3 Utrecht/NL (TivoliVredenburg)
Wed April 6 Amsterdam/NL (Paradiso)
Thur April 7 Brussels/B (Cirque Royal)
Fri April 8 Cologne/D (Live Music Hall)
Sat April 9 Berlin/D (Astra Kulturhaus)
Tue April 12 Hamburg/D (Grünspan)
Wed April 13 Copenhagen/DK (Amager Bio)
Fri April 15 Bristol/UK (Colston Hall)
Sun April 17 Gateshead/UK (Gateshead Quays/Sage Gateshead)
Sat April 23 New York, N.Y./USA (Beacon Theatre)
Sun April 24 Philadelphia,. PA/USA (Union Transfer)
Wed April 27 Evanston, IL/USA (Space)
Thur April 28 Chicago, IL/USA (Thalia Hall)
Fri April 29 Milwaukee, WI/USA (Milwaukee Turners)
Sat April 30 Madison, WI/USA (Majestic Theatre)
Wed May 4 Nashville, TN/USA (Exit/In)
Thur May 5 St.Louis, MO/USA (Old Rock House)
Fri May 6 Davenport, IA/USA (Daytrotter Venue)
Sa May 7 Kansas City, MO/USA (Middle Of The Map Festival)
Thur May 12 San Diego, CA/USA (North Park)
Fri May 13 Los Angeles, CA/USA (Ace Hotel Downtown L.A.)
Mon May 16 Santa Cruz, CA/USA (The Catalyst)
Tue May 17 San Francisco, CA/USA (The Fillmore)
Thur May 19 Portland, OR/USA (McMenamin's Crystal Ballroom)
Fri May 20 Vancouver, BC/CAN (Commodore Ballroom)
Sat May 21 Denver, CO/USA (Project Pabst)
Mon May 23 Seattle, WA/USA (Neumo's)
Thur May 26 Minneapolis, MN/USA (First Ave.)
Sat May 28 Suffolk, VA/USA (Lava Music Festival)
Sun May 29 Boston, MA/USA (Boston Calling)
Thur June 2 Washington D.C./USA (9:30 Club)
Fri June 3 Cincinnati, OH/USA (Bunbury Music Festival)
Sat June 4 Nelsonville, OH/USA (Nelsonville Music Festival)
Sun June 5 Toronto, ON/CAN (Field Trip)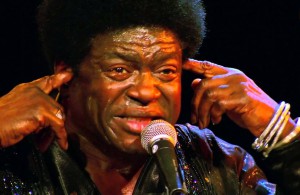 Plus a few more dates for the European Summer-Festivals:
Wed June 15 Ewjik/NL (Down The Rabbit Hole)
Fri July 8 Liege/B (Festival Les Ardentes)
Wed July 9 Brugge/B (Cactusfestival)
Sat July 16 Pori/FIN (Pori Jazz Festival)
Sun July 17 Salacgriva/LATVIA (Positivus Festival)
Sun July 24 San Sebastian/E (Heineken Jazzaldia)
Tue July 26 Lucerne/CH (Blue Balls Festival)
Sat July 30 Cambridge/UK (Cambridge Folk Festival)
Fri August 26 Arrington, VA/USA (Lockn' Festival)
We don't have any music of CHARLES BRADLEY in the catalogue right now but will gladly re-order very fast on request!